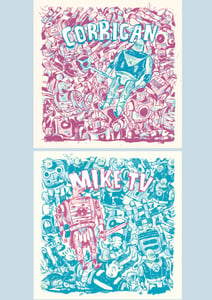 £

3.00 - On Sale
At last! A Mike TV vinyl, it's what you have all been waiting for. We are so cool that we can one minute release a digital E.P and then the next minute, hark back to a format that was popular when your Dad's hair was long and his penis hard.
The virginal vinyl details are as follows! It's a split 7" with Brighton punkcunts CORRIGAN and is out on DEAR DIANE records. It's on a very limited black vinyl when all others are now coloured. Fuck that.
DDR001
Mike TV
1 - Chinwag
2 - Everytime You Go Away (Cheesy cover)
Corrigan
1 - Hey Kathy
2 - Just Don't Know.
Limited to 300 copies.
That's it, get ordering!