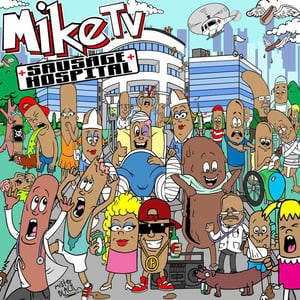 £

3.00 - On Sale
Get some sausage in your gobs, some pork on your fork and some beef in your teeth! Mike TV is back with some seriously meaty music for your earholes. A new 18 track album called Sausage Hospital (it's full of sick bangers) is OUT NOW via Don't Rush Me Records.
Free stickers with every order! Shipping prices to the U.K, Australia, Japan, Canada, U.S.A are listed. 'Everywhere else' is the EU! If you want it shipped to anywhere else, mail jhon@miketvmusic.com please. Ta!
LISTEN TO IT: www.miketvmusic.bandcamp.com
TRACK LISTING:
1. Welcome!
2. Letting Go
3. Earworm
4. Alcoholocaustic
5. I Love Myself And I Want To Live
6. Dear Bill Hicks
7. GYC
8. Fade in Blue
9. Let Down
10. 90s' Teenager
11. Liquid Squidge
12. Myoclonic Jerk
13. Even Keel
14. Cool Wave Magnolia
15. Pasquinade
16. Vanilla Gorilla
17. Ferme La Bouche
18. Farewell!
DRM006